There are a lot of great scenes in "A Christmas Story." But one of our favorites is when Ralphie envisions getting a perfect grade for his holiday essay only to wind up with something much more disappointing.


Take away the quaint setting – and the burning desire for a Red Ryder BB Gun – and you've got a fitting parallel for what's currently happening in the world of parcel shipping.
Like Ralphie and his scholastic aspirations, many members of the shipping community are hoping to get superior levels of delivery quality from their parcel carriers. Just as important, they're willing to purchase premium shipping services such as UPS Next Day Air and FedEx Standard Overnight in order to make that happen.
But like Ralphie's teacher, UPS and FedEx seem to view things a little differently.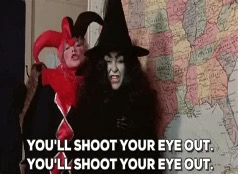 That became painfully evident in the spring of 2020, when they announced plans to suspend their longtime service guarantees.
Going on two years later, most of those guarantees remain suspended.
Although both carriers did reinstate service refunds for their premium overnight services in April of this year, that turned out to be a short-lived gesture for FedEx and a much more carrier-forgiving one for UPS. And neither carrier elected to reinstate guarantees for their ground delivery services.
There may even be language in your current carrier contract that supports this new status quo, because UPS and FedEx have both been persistent in their efforts to include it in many of their recent service agreements. (Read the fine print on yours. You might be surprised to discover that you waived your right to request a service-related refund.)
So what does this mean for shippers like you?
Well, don't shoot the messenger (even with a Red Ryder BB Gun). But it could lead to substandard levels of on-time delivery performance – as our CEO, Tom Nightingale, pointed out to FreightWaves in a recent interview.
"The absence of service guarantees skews the way the carriers operate" he said. "Facing no financial consequences, the carriers are free to deliver a shipment not when it was promised to the shipper and consignee but at a different time that's more efficient for the carriers' network."
This is probably true even if your company or customer has paid for a premium service.
For example, let's say that you purchased a next-day, morning delivery service for a package that should arrive by 10:30 a.m. Let's also say that this package is on a truck that ordinarily wouldn't be hitting your customer's house until around 3 p.m. Under the current arrangement, each carrier is more likely to simply deliver that package at 3 p.m. because that's more efficient for the carrier.   
"But that's just for now, right?", we can hear you asking hopefully. "After all, FedEx and UPS both provided service guarantees for more than 20 years."
Probably not. Neither carrier has said a word about when – or if – they'll reinstate all of their service guarantees. And honestly, neither has much incentive to do so. After all, these guarantees were created during a time when FedEx and UPS had capacity to fill and they wanted to attract more of each other's customers. But right now, they both have more volume than they want or can handle. 
Plus suspending these guarantees has saved each carrier a lot of money, because when those guarantees have been in effect, they've resulted in tens of millions of dollars in refunds.
The bottom line is, your company probably doesn't have much of a leg (lamp) to stand on if a carrier winds up providing you with the delivery equivalent of C+ quality, at least not at the moment, except perhaps to purchase fewer premium services if all you're getting is economy-level reliability.
But stay tuned, because as the shipping environment moves toward normalization – and as companies like Amazon take leading roles the delivery market – it may eventually inspire FedEx and UPS to change their tune on their services and service guarantees.  
And that would be an A-plus-plus-plus for all of us.